We're offering FREE Table Tennis sessions for six weeks to run every Saturday from 10am till 1pm. These sessions are organised to cater for every age and ability – from beginners or those just looking for sociable exercise, right through to performance players seeking to develop their competitive skills.
Why Table Tennis? Well, Table tennis is a great chance to combine socializing with physical exercise. We see table tennis as a means of improving health, celebrating diversity, and building a stronger and more inclusive community, and we're looking to make recreational and competitive table tennis accessible to people of all ages and abilities.
Table tennis is great for the body — it's aerobic exercise that's been shown to boost reflexes, increase hand-eye coordination, improve balance and stimulate the brain. Playing table tennis, the average person can burn 272 calories in an hour. It's an excellent form of stress relief with increasing evidence that table tennis keeps both the body and brain healthy. More so, it's a 'classless' sports — everyone's a player, there's no such thing as social status.
Other Benefits: We aim the sessions to benefit as many people as possible. You'll benefit from direct coaching split into;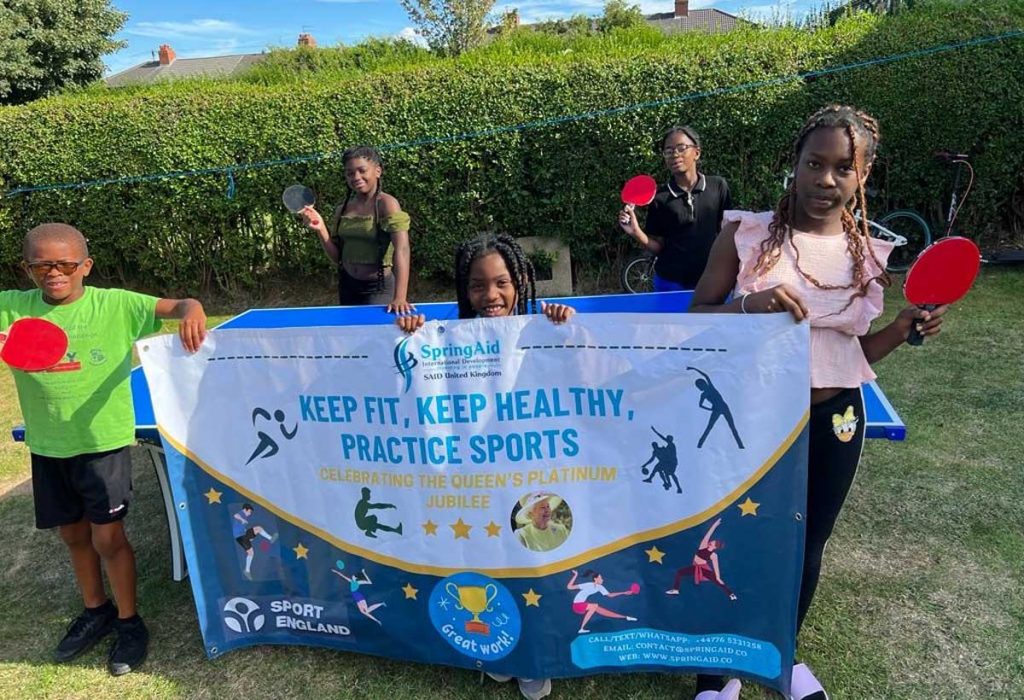 * JUNIOR COACHING (under 19)
* FEMALE-ONLY (women & girls only)
* ADULT COACHING
* ALL COMERS sessions
No Bats, No Experience, No Problem – Just Remember to Wear sports shoes and suitable clothing. No need to book, just turn up!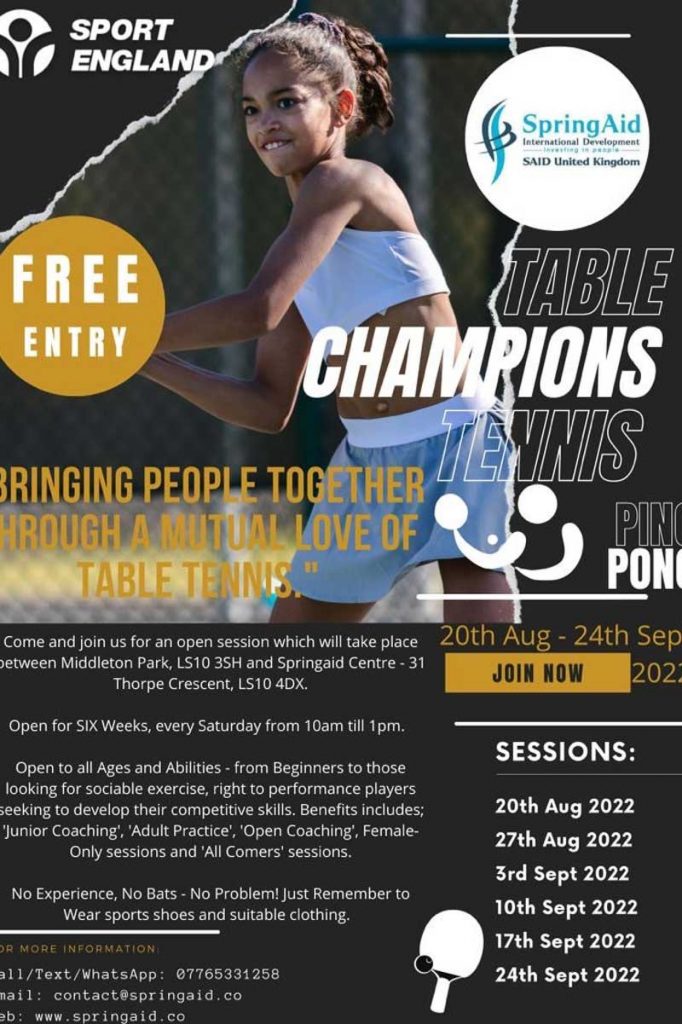 Details:
Start: August 20 2022
Finish September 24th 2022
Cost: Free
Sessions Dates:
– Saturday 20th August 2022
– Saturday 27th August 2022
– Saturday 03rd September 2022
– Saturday 10th September 2022
– Saturday 17th September 2022
– Saturday 24th September 2022
To find out more about the sessions:
Call/Text/WhatsApp: +44776 5331258
Email: contact@springaid.co
Web: www.springaid.co
Use sports England Logo at the end